About Me
Sandy Ramos, like so many others, moved to Nashville in the fall of 1984.  In those days there was no internet, no Facebook, no Reverbnation,  nor Myspace.  So if you wanted to make it as an artist or a songwriter, you had to be here!
After three years of knocking on countless publishers' doors, going to weekly workshops, & performing at the various writers' nights in town, Sandy landed a Staff Writing deal at Wrensong Publishing.  She had her first major success as a songwriter, a Top 5 record, "Don't Waste it On the Blues" by country artist Gene Watson the next year. She remained an exclusive staff songwriter at Wrensong for the next ten years and landed five major label cuts with Lee Greenwood – including the Billboard Top 10 single "We've Got it Made."  Another single "I Brake for Brunettes" by Rhett Akins, was a #1 Dance Club hit as well as reaching #15 on the Billboard Country Charts.  Sandy has had her songs recorded by  Faith Hill,  Neal McCoy,  Kenny Rogers,  Anne Murray,  Wild Rose  &  The Whites and her biggest album cut to date –  "Let 'Er Rip" by the Dixie Chicks, which has sold over 19 million copies!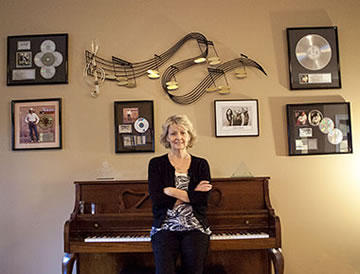 After being an exclusive staff writer for ten years, Sandy decided to concentrate on her own company, Lawyer's Wife Music. Currently, Sandy focuses on co-writing with 'up and coming' new artists.  Look for her songs on the latest releases by future superstar group  Mustang Sally Band, Karen Waldrup, and Justin David.  She also has co-writes with artists Fidel Hernandez, Corbette Jackson, & Sammy Moore!
Sandy has been an 'in demand' evaluator for the Nashville Songwriters Association International, (NSAI) as well as a workshop presenter for TSA and NSAI. She has also served as a judge for many years in the annual NSAI/CMT Song Contest.  She has spoken at workshops around the country & taught at the "Band Jam" camp for aspiring teen songwriters/artists in Nashville. She has been a volunteer for the Country Music Hall of Fame's "Words & Music" program, putting melodies to children's lyrics every year since 1985.