Song Plugging Secrets From Jeffrey Nelson
January 22, 2017

Song plugging Secrets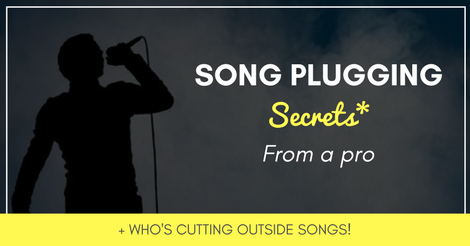 By Jeffrey Nelson

You go the extra mile to make sure your lyrics are tight before you make a professional demo, but how do you go the extra mile, preparation-wise, before you pitch your song?

Two of the more important details to know at any given moment in the country music field are:

Which artists are looking for outside songs right now? Which of those artists have consistently cut a lot of outside songs?

There is a misconception in the music business right now that you can take advantage of. So many writers and some publishers complain of how country artists always co-write the majority of their songs. Veteran pluggers know this isn't really true. Many artists do. Many artists don't. The knowledge of which artists do and which artists don't isn't widespread.

So I compile and periodically update a "Country Artists Who Cut Outside Songs" research report. You can see a free sample of it here.

It sorts major country artists by which ones had the highest percentage of outside songs recorded on their previous albums and also lists which of those artists are currently seeking outside songs right now. The sample is from 2003, but the actual "Country Artists Who Cut Outside Songs" report is significantly longer and of course features current country artists.

Yes, the artist targets keep changing. Yes, the competition is fierce among many great songs and many seasoned pluggers. But be encouraged. Many of the songs pitched out there are done by writers shotgunning pitches with poor or under-informed timing. And if you made it this far in this blog, you probably are already a fan of the "pitch smarter, not harder" mentality, which is a mindset that Sandy and I both love.

If you would like to order a quarterly subscription to the "Country Artists Who Cut Outside Songs" report for 2017, please use the 'buy now' button below. You'll receive (in the mail) every three months a color printout of this research report (January, April, July and October of 2017).
If you would like to order only the January 2017 "Country Artists Who Cut Outside Songs" research report, please use the 'buy button' below.
If there is a "secret" to effective song plugging, I would suggest it is consistently exhibiting a patient professionalism and having access to great material and great professional relationships. "Doing your homework" before making each pitch might be just as important as "doing your homework" before deciding to make each professional demo.
Best wishes that 2017 is an extraordinary year for you and your songwriting… and your pitches.
Best Regards,
Jeffrey Nelson